200
site:
inurl:
No indexable
site
Do follow
404
Error
Indexable
Links are what lead people to your website, but keeping those links alive requires more than just hoping for the best.
ARE
404 STATUS
BACKLINKS
ANNOYING
YOU?
404 literally means wasting money, time and energy for nothing, leaving decreased rankings and traffic. That's why we have taken one of the main painful issues of any SEO and link building specialist and created a solution for it.
They get deleted​​
They get deindexed​​​
They get redirected to another page​
The Robot tag gets changed to Not Indexable
The Keyword Rel gets changed to no follow
The backlink provider's site is down​
MEET
LINKS GUARDIAN

​

The only advanced link tracker tool that will help you keep your links alive saving you days of hard work and keep the value of your link expenses automated! A backlink tracker specially designed for marketers, webmasters, or site owners will keep an eye on your links and increase page ranking in Google.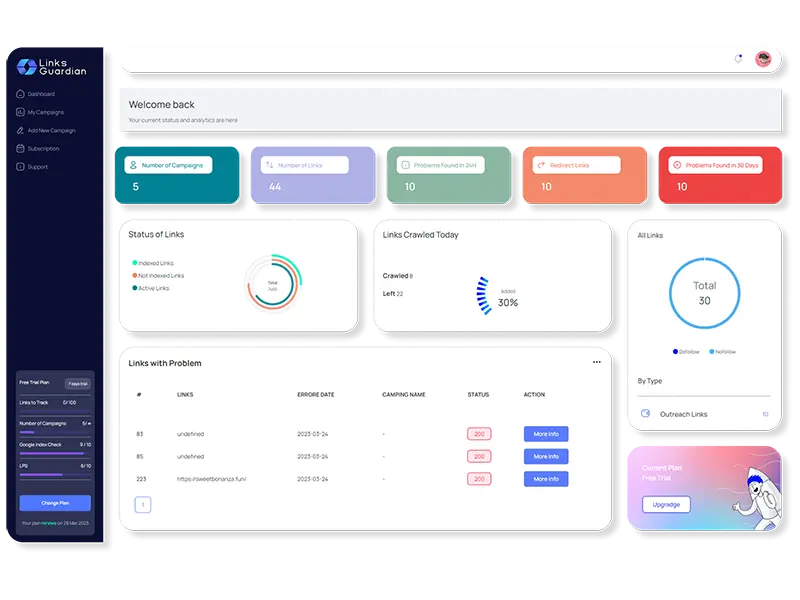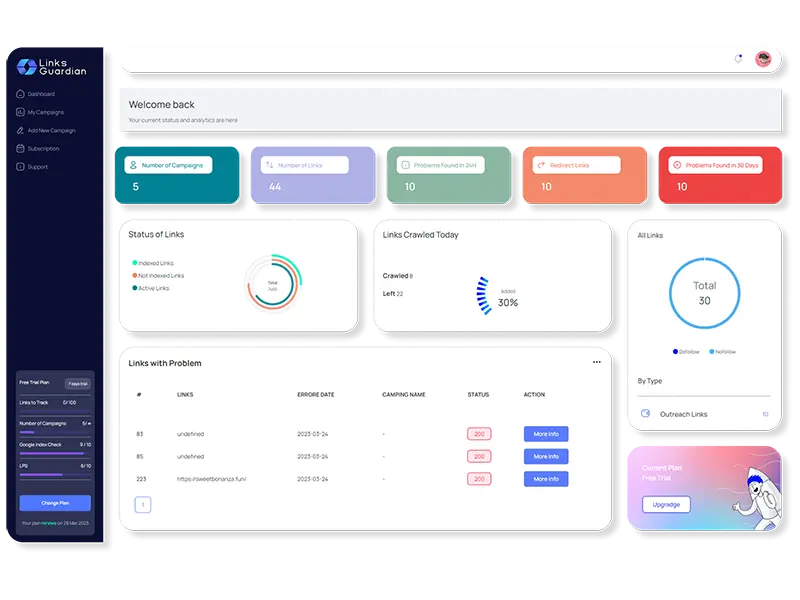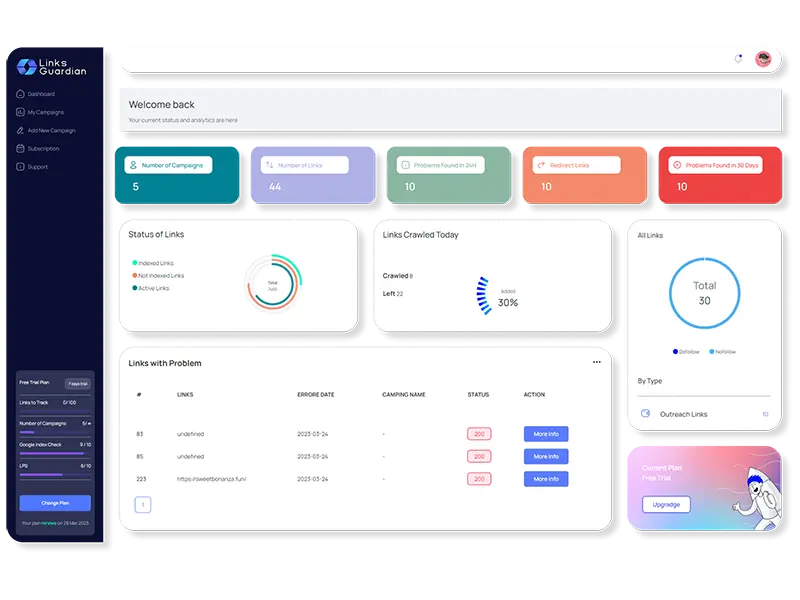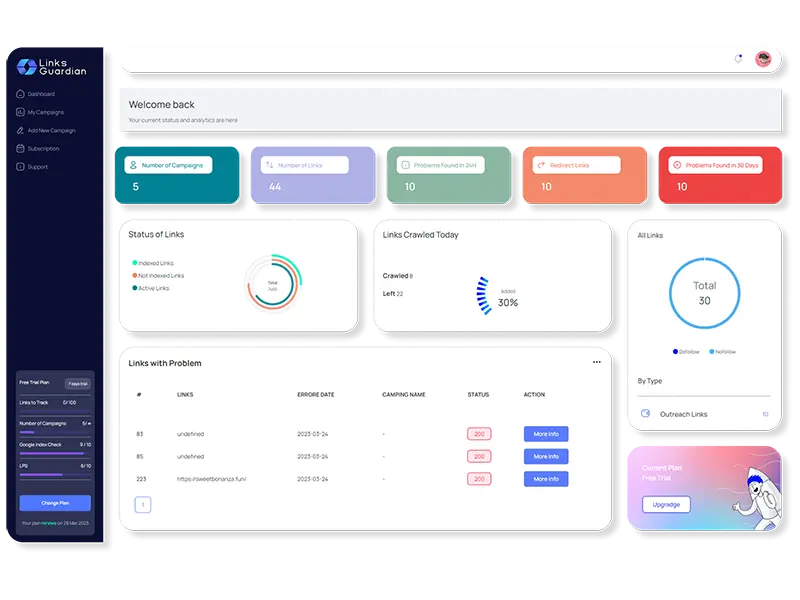 KEEP YOUR
BACKLINKS ALIVE

WITH LINKS GUARDIAN!

Track your valuable backlinks 24/7.

We'll notify you of any changes or deletions via email providing complete details about the changed/deleted link, including its acquisition source and provider.

Say goodbye to manual checking all your backlinks and not being able to find or remember the link provider details.

DID YOU KNOW THAT: Statistically, most links are lost within 50 days of publication, which equals to losing NOT ONLY Money, but time, energy, rankings, traffic, among others.

Receive instant updates about changes straight to your inbox!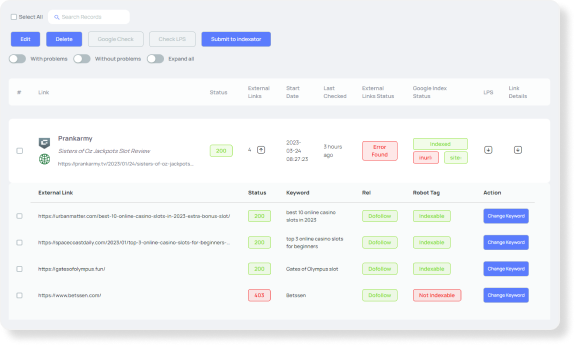 5 REASONS

WHY YOU NEED

TO TRACK

YOUR BACKLINKS

Check your backlinks' status code, anchor texts, external links, LPS, Rel, Spam score, Google index tag and Indexation status!
Live backlinks​

Keep your backlinks alive

More traffic

Get more organic traffic from search engines

Higher rankings

Rank higher on search engines over time

More keywords

Get more indexed keywords

Keep value

Keep value of your spent time, effort and money
WHY DO I NEED LINKS GUARDIAN?
LG helps you keep your links live effortlessly and in an automated way, saving you 100s of manual checking hours and pointless spendings on backlinks.
It only takes a few minutes to set up your account and create your first campaign, and then you'll never have to check your links manually ever again!
Ready to take control of your links?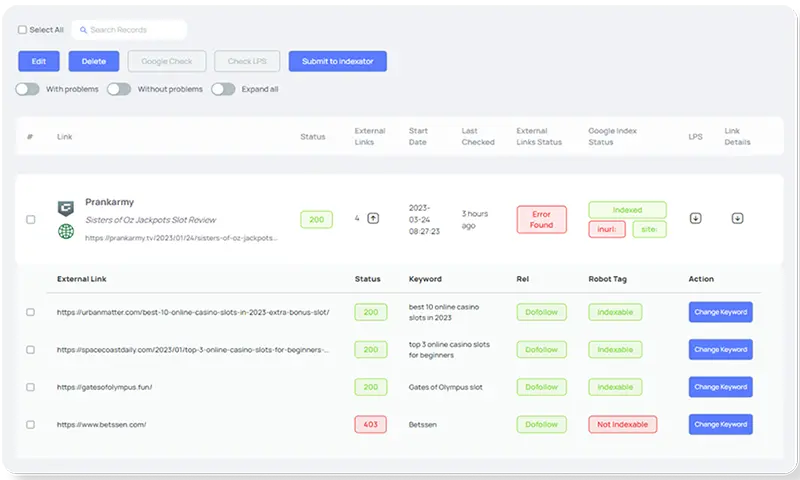 THE MAIN
FEATURES

OF LINKS GUARDIAN
Link status checker
Automatically check all your links' status every day and get notified if any issue appears.
Backlink indexation
Index your links on Google, Bing and Yandex, by providing 100% crawling rate and high indexing rate of Your backlinks!
Auto-external link checker
Check your links' external links by just selecting them.
External link rel auto checker
Automatically check if your external links are dofollow or nofollow.
Robot Tag Checker
Automatically check if your links are indexable or not.
Get Notified
Your links will be crawled every day and when your links get changed or deleted, you'll get notified via email.
Link Acquisition Details
Keep all your backlinks providers' details in one place.
Analytics
Get a complete analytics of your backlinks, including their status, rel and robot tag, LPS, link provider details, etc.
Google Index Checker
Check if your links are indexed on Google.
Auto-Keyword Checker
Check your links' anchor texts automatically.
Link Profile Strength Checker
Check your links' LPS: DA, PA, CF and TF.
Reporting For Clients
Get all your links' reports and live updates.
COMPARISON TABLE
Links Guardian, a simple & meaningful way to track your links without stitching together a bunch of SEO apps and spending lots of time.
| FUNCTIONS | | | | Indirect competitors |
| --- | --- | --- | --- | --- |
| Tracking frequency | 1 day | 1 week | | |
| All in one pricing | | | | |
| Check anchor text/keyword | | | | |
| Check Google index | | | | |
| Check External link Rel | | | | |
| Change the tracked keywords with other ones or add more keywords | | | | |
| *Unlimited websites to crawl | | | | |
| Get a public link for clients to check the links' status | | | | |
| Get notified when the URL status changes from 200 to 404 or 500 or vice versa | | | | |
| Get notified when the external link gets deleted | | | | |
| Get notified when the external links gets changed to no follow | | | | |
| Get notified when the external links anchor texts get changed or deleted | | | | |
| Get notified when the robot tag changes to no index | | | | |
*The number of websites to crawl is unlimited, but the number of URLs to check is based on your subscription plan.
STATS

THAT LINK BUILDERS

HATE

If you are a link builder or an SEO specialist, you have most probably faced issues such as spending enormous amounts of time on checking links and keywords. What's worse, most of your acquired links have been changed or deleted at some point of time.
50+

Needless Minutes

are spent by link builders to check 100 links.

100+

Wasted Minutes

are spent by link builders to check 100 links' keywords.

67%

Of Acquired Links

get changed or deleted within the first 50 days.
FAQ
GOT QUESTIONS?

HAVE A LOOK HERE
Everything is quite simple. You need to register on the website, get one of our Subscription plans, add your links, choose the anchor texts and external links you want to track and that's it. As simple as possible!

Why settle for manual link checking when you can have Links Guardian revolutionize your approach? Let's face it, manually checking a handful of links might be feasible, but what happens when you have 50, 100, or even more?

How long would it take you to painstakingly go through each one? And how often can you realistically keep up with regular checks?

Sign up today and experience the game-changing difference for yourself.

Here are the 6 key reasons for tracking your links:

Not to be FOOLED by the link providers
No more wasted time and money
To keep growing your Referring Domains
To keep Growing your Indexed Keywords
To keep Growing your traffic
To keep Growing rankings

We have 2 types of subscription: Basic and Pro.

With Basic plans, you can check and track your links, their HTTP status code and robot tag.

With Pro plan, you have more features serving you. In addition to checking and tracking your links' HTTP status code and robot tag, you can also check and track your links' external links, their status code, rel, keyword, robot tag, etc. Besides, you'll get credits to check your links' LPS, Google Index status, index your links, etc.

With both types of plans, you will get notified when any of your links gets changed or deleted. You can save link providers' details, so when something changes in your links, you contact the link provider and fix the issue.

You can check out the subscription plans here.

The main difference is that with Pro plans, you can check your backlinks' external links as well, the keywords, rel, robot tag, etc.

The 2nd difference is that you can check your links' LPS: DA, PA, CF, TF.

With Pro plans, you can also check your links' Google Index status. It's important as if your links are not indexed on Google, then they will not provide any value for your site rankings.

Yes, we offer a 7-day free trial. During that period, you'll be able enjoy the advantages of the Pro 4,500 plan, with all the features that the platform provides.

Fortunately we offer a free trial with no credit card requirement. That means. you are free to use our tool before making the decision to get a paid subscription.

Therefore there is no refunding.

However, if you decide to cancel the plan, your account will be fully functional until the subscription expiration date. So you will be free to use it as much as you need it.